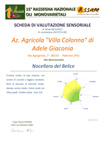 Chemical and Sensorial analysis - Certifications details
The Farm is regulated by CCPB - inspection and certification body for agrifood and "no food" products, formerly IMC "Istituto Mediterraneo di Certificazione". Authorization code: BU21. Certification Documentary Evidence can be downloaded here. Chemical and Sensorial analysis of the current harvest can be found here.
How our Olive Oil is made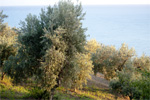 The olive grove is located on a fresh and airy hillside, overlooking Torremuzza gulf.
The clayey soil and the position of the olive grove, directly on the sea, create a perfect environment for "Santagatese, Giarraffa, Biancolilla, Verdello, Nocellara del Belice e Messinese" varieties (or "cultivar"), which the plantation is made of.
The olive grove, which still has several hundred-year-old trees of the "Santagatese" variety, was enlarged and upgraded by planting new species of trees that were selected in order to enhance the qualities of the product.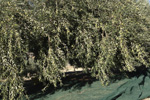 Immediately before the harvesting, nets are settled under each tree. Then, olives are collected manually or by means of automated combs, directly from the trees. The overly mature or bad fruits, which fell down spontaneously, are discarded.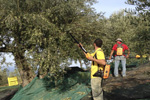 Then, the Olives are removed manually, or by means of automated combs, directly from the trees.
The overly mature or bad fruits, fallen down spontaneously, are discarded.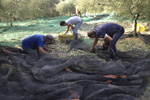 Afterwards, the fruits are collected from the nets and stored in special perforated boxes, to allow air circulation.
In this phase, some of the foliage that fell down with the olives, some of the poorest fruits, and other waste are separated from the valuable part of the harvest.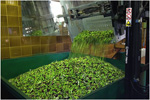 Olives are then carried to the mill, weighted, washed and separated from the foliage and the waste.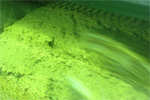 The working process is initiated within 24 - 48 hours of harvesting. The pressing is carried out at low temperatures, using very advanced equipment. The process temperature is limited up to 27 - 28°C, in order to avoid aromatic and healty substances loss by evaporation.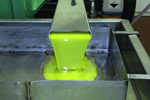 Eventually, the olive must is collected in malaxation tuns. Throughout the process, the temperature never exceeds 27 - 28°C; this allows the production of a fragrant and hefty olive oil, very rich in phenols: a very high quality product.